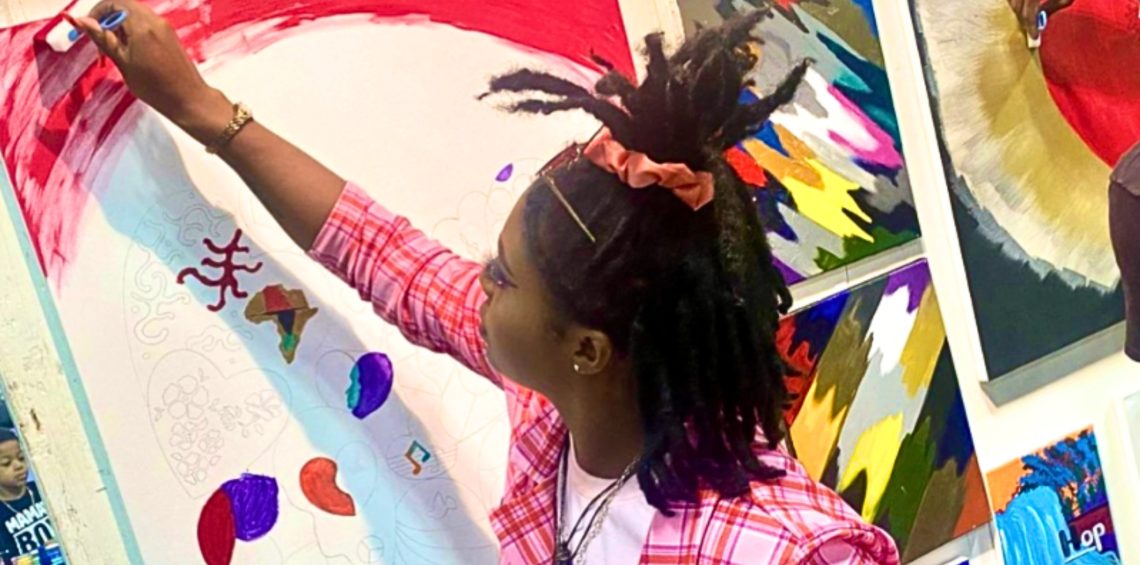 7 Ways to Get Involved at This Year's Black Art Expo!
Calling all art enthusiasts, creatives, and supporters of the vibrant Black art community! The September 9th, 2023 Black Art Expo at the Georgia International Convention Center promises to be an exciting celebration of artistic expression, culture, and community. It's time to celebrate the power, beauty, and cultural significance of Black art! Whether you're an artist yourself, an art lover, or someone who simply appreciates the power of creativity, there are numerous ways you can get involved and make this event a memorable experience. Check out these six fun ways to participate and engage at this year's Black Art Expo!
1. Showcase Your Artwork: Own the Spotlight!
Calling all talented artists! The Black Art Expo provides an excellent opportunity to showcase your artwork to a diverse and enthusiastic audience. Consider purchasing a vendor booth and displaying your creations proudly. This is your chance to connect with potential buyers, art collectors, and fellow artists. Let your creativity shine and inspire others with your unique artistic vision.
2. Volunteer: Be a Part of the Magic!
If you're passionate about art and want to contribute to the success of the Black Art Expo, consider volunteering at the event. Volunteers play a crucial role in ensuring the smooth operation of the expo, assisting with various tasks such as setup, registration, guiding attendees, and more. It's a fantastic way to immerse yourself in the event, meet new people, and contribute to the vibrant art community.
3. Apply for a Media Pass: Unleash Your Inner Storyteller!
Are you a writer, blogger, journalist, or content creator with a knack for capturing the essence of events? Apply for a media pass at the Black Art Expo and become an official storyteller of the event. Document the inspiring art displays, interview artists and attendees, and share your experience through articles, blog posts, videos, or social media. Your unique perspective can help spread the excitement and showcase the incredible talent on display.
4. Share Your Knowledge: Become a Speaker!
Do you have expertise or insights to share with fellow artists and art enthusiasts? Apply to be a speaker for a class or panel discussion at the Black Art Expo. Whether it's sharing your artistic techniques, discussing the significance of Black art in society, or exploring art as a form of activism, your knowledge and experiences can inspire and educate others. Engage in thought-provoking conversations, connect with like-minded individuals, and leave a lasting impact on the art community.
5. Take the Stage: Perform and Ignite the Crowd!
The Black Art Expo is not only about visual art—it's a celebration of various art forms. If you're a musician, dancer, poet, or performer of any kind, seize this opportunity to showcase your talent Live at the B.A.E.! Entertain and captivate the audience with your creative expressions, infusing the event with energy and excitement. Let your performance be a testament to the power of art in all its forms.
6. Be a Proud Sponsor: Support the Artistic Vision!
Are you passionate about supporting the arts and nurturing emerging talent? Consider becoming a sponsor for the Black Art Expo. Your contribution will help create a platform for artists to thrive, promote diversity in the art industry, and foster a vibrant artistic community. Your support will not only make a significant impact but also gain recognition and appreciation from the art-loving community.
7. Attend and Absorb the Magic: Let the Art Inspire You!
Last but not least, simply attending the Black Art Expo is a wonderful way to get involved. Immerse yourself in the mesmerizing art displays, engage with artists, and let the creativity and passion fuel your own artistic journey. Take the time to appreciate the talent, explore new art forms, and connect with like-minded individuals who share your love for the arts.
The Black Art Expo offers many opportunities for individuals to get involved and celebrate the richness of Black art and culture. Whether you're an artist, a volunteer, a speaker, a performer, a sponsor, or an attendee, each role contributes to the vibrancy and success of the event. Embrace the creative spirit, connect with fellow art enthusiasts, and be a part of an unforgettable celebration of artistic expression at this year's Black Art Expo. Let's make it a truly memorable experience for everyone involved!